22 avril 2014
---
Un des plus anciens groupe de vignerons indépendants unissant des vignerons de toute la France. (depuis 2006 si ce n'est le premièr unifiant des vignerons familiaux de toute la France ) IMPORT EN DIRECT pour l'export, PRIX DIRECT DOMAINE

PAS d'INTERMEDIAIRES : notre groupement ne joue pas le rôle d'intermédiaire, d'agences ou de négociants mais reste un facilitateur, un organisateur pour vos demandes d'échantillons, commandes, demandes d'infos… et vous permet de gagner du temps, d'avoir un interlocuteur unique, et fiable tout en connaissant chacun d'entre nous
One of the oldest group of independent winegrowers uniting winemakers from all the main areas in France. (Since 2006) - DIRECT IMPORT

NO INTERMEDIATE : our group does not play the role of intermediary agencies or traders but is a facilitator, an organizer for your sample requests , orders, requests for information and allows you to save time, have a single contact , and reliable partner while knowing each of us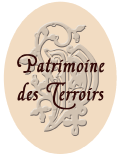 Patrimoine des Terroirs
Since 2006, depuis 2006

8 rue Valentine Besson - 25310 HERIMONCOURT
Warehouse's adress- plateforme logistique : 10 minutes de/from Beaune (21190 CORPEAU)
TEL : +33.3 81 91 84 30
EMAIL : patrimoinedesterroirs@laposte.net
BLOG : www.patrimoinevin.canalblog.com
---
'La vie est trop courte pour boire du mauvais vin.'
'Life is too short to drink bad wine.'
Johann Wolfgang von Goethe
NEW : présentation des vins en videos cliquez ici / presentation of our wines in video click here
---
VOUS ETES VIGNERONS, vous pensez rentrer dans notre charte ethique?
Contactez nous ? patrimoinedesterroirs@laposte.net

---
PRESENTATION FRANCAIS 2014:
ENGLISH PRESENTATION 2014:
Lettre d'information, Avril 2014 - NEWSLETTER April 2014:

---
Atn professionnels du vin, recherche rapide / Atn professionnals of the world of wines, quick research
---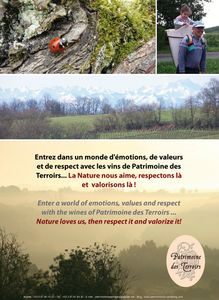 Patrimoine des Terroirs est un groupement de vignerons indépendants [ groupe de vignerons, association de vignerons, club de vignerons ] sur toute la FRANCE et nous avons comme objectif de promouvoir la richesse viticole française, et son exceptionnelle diversité et histoire et ce depuis 2006 auprès des professionnels du secteur traditionnel en France (25%), et aussi à l'export (75% soit plus de 40 partenaires à l'étranger, importateurs, distributeurs qui nous ont accordé leur confiance). Au fil des ans, nous devenons une référence en vins de France et spiritueux. Une sélection des meilleurs vins de 12 régions de France provenant exclusivement de vignerons récoltants et artisans, mis en bouteilles aux domaines. Patrimoine des terroirs est aussi un révélateur des talents de demain, des talents d'aujourd'hui peu connus et surtout a faire découvrir ...
Nous sommes certainement un des plus anciens et donc un des précurseurs, groupe de vignerons indépendants unissant des vignerons de toute la France. ( une des toutes premières associations, si ce n'est la première unifiant des vignerons indépendants de toute la France )


Since 2006, Patrimoine des Terroirs is a ethical group of several independent french winemakers, a consortium of french wine producers ( fine family estate wines ) and our goal is to promote the richness of French wines, and the diversity and history to professionnals in France (25%) and on Export Markets (75%, more than 40 importers, distributors who trust in us ).Year after Year, we become a reference in french hand-craft wines and spirits. Patrimoine des Terroirs also reveals the talents of tomorrow, the today's talent or the talent to be discovered ...*
We are certainly one of the oldest, and therefore a precursor, group of independent winegrowers uniting winemakers from all the main areas in France.

Patrimoine des terroirs répond à un besoin de panachage notamment et une palette de services notamment logistique et commerciale avec une gamme large, diversifiée, en direct des vignerons et non de devenir ou d'etre un intermédiaire. Aussi, dans le cas où vous avez pour habitude de commander par vigneron ou vin des quantités plus ou moins importantes, n'hésitez pas à nous consulter afin que nous appliquions les meilleurs conditions, tarifaires, commerciales et logistiques. C'est aussi cela une relation de confiance. Nous sommes souples : avec certains de nos partenaires, on discute de la meilleure solution, on l'applique et tout le monde d'y retrouve. Notre politique est de vous offrir la possibilité de travailler des vins de vignerons tout en trouvant la meilleur formule de partenariat adapté à votre marché et vos besoins. Nous sommes un partenaires, ce qui veut dire que nous souhaitons joindre nos forces à nos clients distributeurs pour se développer sur le long terme.

Patrimoine des Terroirs, des avantages logistiques et commerciaux

• LES ATOUTS D'UNE PLATEFORME
o Vous pouvez acheter de plus petites quantités par vin & vigneron
o Vous réduisez ainsi vos frais de stockage et maximisez votre rotation de vins
o Vous optimisez vos frais logistiques avec une seule livraison
o Vous réduisez l'impact au niveau de votre trésorerie (cash flow )
o Vous offrez à vos clients une gamme plus large afin de vous différencier de vos concurrents
o Vous gagnez du temps grâce à une livraison unique
• UNE RELATION DIRECTE AVEC LES VIGNERONS
o Vous travaillez en direct avec les vignerons qui vous intéressent
o Vous bénéficiez d'une logistique simple et rationalisée : panachage avec différents vins de différents vignerons de différentes régions de France à partir de notre plateforme [ optimisation des coûts logistiques)
o Une gamme de vins authentiques avec des caractères distincts.
o Une production respectueuse : nous pratiquons tous une agriculture durable
• VOUS SOUHAITEZ ENLEVER DIRECTEMENT depuis chaque domaine, pas de pbs ! N'agissant pas comme un intermédiaire, PATRIMOINE DES TERROIRS vous permet de conserver les avantages d'enlèvement ou de livraison DEPART VIGNERON tout en ...
o Gagnant du temps grâce à un interlocuteur unique à contacter
o Gagnant en efficacité
o Bénéficiant des conditions commerciales de Patrimoine des Terroirs
o Bénéficiant de réactivité …


Patrimoine des Terroirs answer to a particular need to have the possibilities to place mixed order(s) and give to these partners some range of services including logistics and commercial with a wide, diversified range of wines FROm direct producers and we would not become or be an intermediary. Also, in case you have the habit of ordering wine with a picking up at each winemaker with a more or less important amount, do not hesitate to contact us in order to apply the best conditions, prices, trade and logistic management. This is also a relationship of trust. We are flexible: with some of our partners, we discuss the best solution, we apply and everyone found its interest. Our policy is to offer you the opportunity to work wine growers while finding the best partnership formula for your market and your needs. We are a partner, which means that we want to join forces with our partners to develop long-term business relationship.
Patrimoine des Terroirs, some commercial and logistic benefits

• THE ADVANTAGES OF A PLATFORM ( warehouse)
o You can buy smaller quantities per estate & per wine
o You reduce your storage costs and maximize the rotation of wines
o You can optimize your logistics costs with a single delivery
o You reduce the impact on your cash flow
o You can offer to your customers a wider range and you give a differenciation from your competitors
o You save time with a single delivery
• WORKING DIRECTLY WITH THE WINEGROWERS
o You work directly with the wines you are interesting in
o You have the benefits of a simple, rationalised logistic: Possibility to collect mixed pallets in the same point of consolidation with wines from different producers [ you optimize your logistic fees !)
o A wide range of authentic wines with distinct characters.
o A respectful production: we do all, a reasonable viticulture, in the respect of environment..
• YOU WOULD LIKE TO PICK UP THE WINES DIRECTLY from each estate ? No problem...PATRIMOINE DES TERROIRS is NOT an intermediary, we allow you to retain the benefits of removal or delivery at each estate while...
o You win time with a single contact to organize your orde
o You gain in efficiency because we take care to prepare your order and to respect your timing
o You have the benefit of commercial conditions "Patrimoine des Terroirs"
o You have the benefit of reactivity
o You have the benefit of our commercial agreements with some providers

Le véritable intéret de la mondialisation, n'est elle pas de découvrir différentes cultures, différentes richesses, différents produits gastronomiques, différentes musiques ? Ne peut on pas valoriser les produits locaux, les cultures diverses, les spécialités locales plutôt que de standardiser les mêmes produits. L'ouverture au monde ne doit pas permettre de rendre les choses communes a tous mais de permettre à tous de découvrir des produits régionaux ! N'est il pas intéressant de découvrir la diversité viticole et la diversité des vins ...

Nous souhaitons au travers de Patrimoine des Terroirs, sensibiliser les gens sur le fait qu'un vin est le fruit d'une alchimie entre son sol, son ou ses cépages et le vigneron ( avec ses choix de vinification et d'élevage). Notre plus grand souhait est que chaque pays ait aujourd'hui la capacité d'exporter ses spécificités, sa culture afin que la Terre ne deviennent pas une seule entité homogène, mais la réunion de particularités locales.

The real interest of globalization, it's to discover different cultures, wealth, various gourmet foods, different musics, no ? Can we not valorize local products, diverse cultures, local specialties rather than to standardize the same products ? To open to the world should not allow to make things common to all but to allow everyone to discover regional and national products ! It's allways interessant to discover the diversity and variety of grape wines, doesn't it ?

We hope through Patrimoine des Terroirs, to allow people to understand that wine is the result of a relation between the soil, its grapes and the winemaker (with its choice of vinification and aging). Our greatest wish is that each country will have the ability to export its specificities, its culture in order to avoid the earth to become a single homogeneous entity , but the meeting of local, regional or national specificities, characteristics.
Visitez notre blog et découvrez qui nous sommes et ce que nous faisons.... /
Enjoy to visit our blog and discover us....
---
Vin,vigneron, viticulteur, Alsace, Bourgogne, Bordeaux, Loire, Rhône, Champagne, Jura, Sud Ouest, Provence, panachage, livraison unique, plateforme, groupage, groupe de vignerons, groupement de vignerons, groupement de viticulteurs, groupe de viticulteurs, GIE, commandes panachées, commandes mixées, Grenache, Pinot Noir, Chardonnay, Sauvignon, Merlot, Chateauneuf du Pape, Côtes de Provence, Saint Emilion, Pomerol, Muscadet, Sancerre, Menetou Salon, Vin Jaune, Vin de Paille, Macvin, Côtes du Jura, Fronsac, Clisson, Anjou, Vouvray Bourgueil, Jurancon, Madiran, Côtes du Rhône, Chablis, Pouilly Fuissé, Saint Véran, Santenay, Gevrey Chambertin, Ladoix, Volnay, Aloxe Corton, Côte de Beaune, Côte de Nuits, Viré Clessé, Mâcon, Crémant, Saint Joseph, Condrieu,Beaujolais, Beaujolais Nouveau, Coteaux du Languedoc, Vin de Pays d'oc, Côtes du Roussillon, Muscat de Rivesaltes, Maury, Pic St Loup, Corbières, Maranges, Touraine, Pommard, Meursault, Rouge,Rosé, Blanc, vin de terroir, terroir, bio, biologique, biodynamie, agriculture, raisonnée, Guide Hachette, revue des vins de France, Wine Spectator, Wine Advocate, Decanter, Wine Enthusiast, Concours de Macon, Concours agricole de Paris, Tanzer, Jancis Robinson, Languedoc Roussillon, Calvados, Cidre, Tastevinage, Burgondia, Guide Gilbert et Gaillard, Dussert Gerber, Bettane et Desseauve, Féminalise, Revue des vins de France, fine french wine, hand-craft, producer, winegrower, winemaker, France, mixed pallet, warehouse, plateform, rare & fine wine, spirit, spiritueux, Armagnac, Cognac,boutique wines, restaurant, horeca, caviste, retailer, grossiste, bar à vin, importateur, ditributeur, ditributor, importer, Aoc, Aop, appellation, selection, wine merchants, independent vineyards, premium-quality, direct from the vineyard, French wine regions, grape varieties, Burgundy, Loire Valley,Rhone Valley, organic vineyard, leading supplier, weingut, winzer, weine, weinbau, weinherstellung, aufzucht, auszeichnungen, philosophie, millésime, vintage, 2009, 2005, 2010, Wine Tasting, Wine Dinners, Wine Events, French Winery, french paradox, Französisch Weine, Weine aus Frankreich, Weißwein, Rotwein, los vinos franceses, vinos franceses, el vino blanco, vino tinto, viñador, viticultor, bodega, fournisseur vins, supplier wines, gastronomie, gastronomy, oenotourisme, sauvignon, merlot, chardonnay, cabernet, malbec, syrah, grenache, cinsault, buy french wines, vins de France, Grands Crus Classés, vins d'exception, raisins, vendanges, grand choix de vins,small producers, hand-craft producers, family estate, family produceraccord mets et vins, achat vin, acheter vin, acheter champagne, achat champagne, buy champagne, terroir's wine, unusual wines that express the terroir the wines come from, talent and hard work of the winemakers, hotels, restaurants, independent retailers, on trade chains, high quality wines, well positioned to meet the demands of the most discerning buyer, burgundy, wine reviews, Franse wijnen, wijnen van Frankrijk, Vinos de Francia, vino francés, французские вина, Вина Франции, Vine fra Frankrig, franske vine.vins de propriétés, vins de proprietaires. group of french winemakers. group of french wine producers. French winegrowers association.French winegrowers club.Premium wines. Premieum fine french wines. Grands vins de Bourgogne. Grands vins de Bordeaux. Grands vins du Rhône. Grands vins de Loire.Top french wines, Exciting fin french, french wine club, french producers wine club, french winemakers club, Independent winemakers group, Groupe vigneron, groupe viticulteur, Gie vigneron, gie viticulteur, Wine spectator, wine entusiast, burghound, independent winegrowers group, independent french winegrowers consortium, groupe de vignerons, groupe de viticulteurs, groupe de producteurs.