14 novembre 2016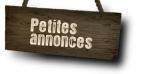 L'association de vignerons Patrimoine des Terroirs recherches des partenaires fiables ( agents commerciaux indépendants ou grossistes indépendants, revendeurs) afin de développer une clientèle de cavistes, bars à vins, épiceries fines, restaurants en France.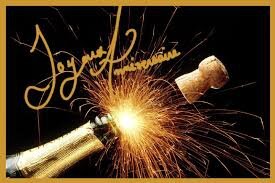 SAVE THE DATE, BLOQUEZ LA DATE : 10e anniversaire Patrimoine des Terroirs / 10th birthday of Patrimoine des Terroirs
28 JANVIER-JANUARY 2017 - DAMBACH LA VILLE (ALSACE)
11h-18h + Diner, repas le soir
LIEU/PLACE : 45 minutes Strasbourg, 31 minutes Colmar , 1h05 aéroport Bale (Basel's airport))
Patrimoine des Terroirs et ses 30 vignerons ont l'immense plaisir de vous inviter fin Janvier 2017 . RESERVE AUX PROFESSIONELS. Nous célébrons les 10 ans de notre association de vignerons. Recevoir votre invitation gratuite - cliquez ici
English : Patrimoine des Terroirs and its 30 french artisan winegrowers have the pleasure to invite you in the end of JANUARY 2017. ONLY FOR WINE PROFESSIONALS. We celebrate the 10 years of our association of winegrowers. Recieve your free invitation - click there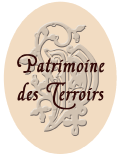 Patrimoine des Terroirs
Group of craft 30 winegrowers since 2006, groupe de 30 vignerons depuis 2006

7 rue Valentine Besson - 25310 HERIMONCOURT
Warehouse's adress- plateforme logistique : Chalon Sur Saône (BOURGOGNE)
TEL : +33.3 81 91 84 30
EMAIL : patrimoinedesterroirs@laposte.net
BLOG : www.patrimoinevin.canalblog.com
Nous nous sommes regroupés dans l'idée de mutualiser, pour nos clients professionnels la partie commerciale et logistique./ We came together for our professionnal customers with the idea of mutualing the commercial and logistical part.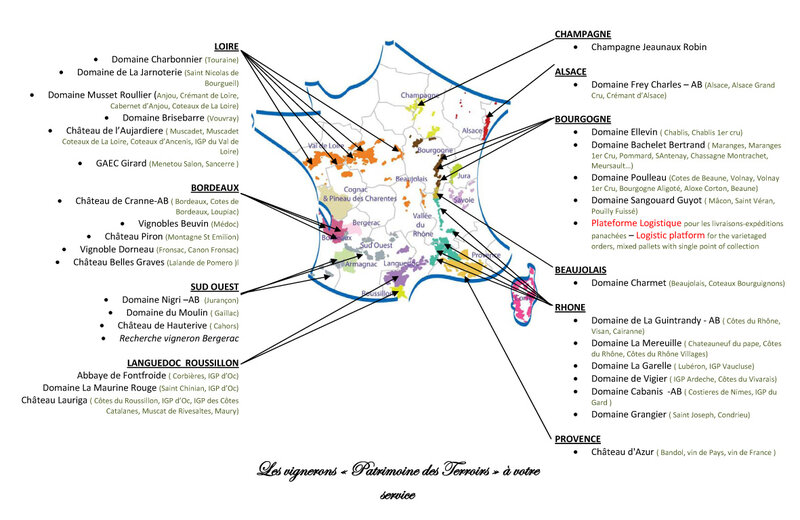 NAVIGATION- PLAN DU SITE ( cliquez sur les liens directs en dessous ) / NAVIGATION - PLAN of our blog (click on the direct link you will find below)


Vin,vigneron, viticulteur, Alsace, Bourgogne, Bordeaux, Loire, Rhône, Champagne, Jura, Sud Ouest, Provence, panachage, livraison unique, plateforme, groupage, groupe de vignerons, groupement de vignerons, groupement de viticulteurs, groupe de viticulteurs, GIE, commandes panachées, commandes mixées, Grenache, Pinot Noir, Chardonnay, Sauvignon, Merlot, Chateauneuf du Pape, Côtes de Provence, Saint Emilion, Pomerol, Muscadet, Sancerre, Menetou Salon, Vin Jaune, Vin de Paille, Macvin, Côtes du Jura, Fronsac, Clisson, Anjou, Vouvray Bourgueil, Jurancon, Madiran, Côtes du Rhône, Chablis, Pouilly Fuissé, Saint Véran, Santenay, Gevrey Chambertin, Ladoix, Volnay, Aloxe Corton, Côte de Beaune, Côte de Nuits, Viré Clessé, Mâcon, Crémant, Saint Joseph, Condrieu,Beaujolais, Beaujolais Nouveau, Coteaux du Languedoc, Vin de Pays d'oc, Côtes du Roussillon, Muscat de Rivesaltes, Maury, Pic St Loup, Corbières, Maranges, Touraine, Pommard, Meursault, Rouge,Rosé, Blanc, vin de terroir, terroir, bio, biologique, biodynamie, agriculture, raisonnée, Guide Hachette, revue des vins de France, Wine Spectator, Wine Advocate, Decanter, Wine Enthusiast, Concours de Macon, Concours agricole de Paris, Tanzer, Jancis Robinson, Languedoc Roussillon, Calvados, Cidre, Tastevinage, Burgondia, Guide Gilbert et Gaillard, Dussert Gerber, Bettane et Desseauve, Féminalise, Revue des vins de France, fine french wine, hand-craft, producer, winegrower, winemaker, France, mixed pallet, warehouse, plateform, rare & fine wine, spirit, spiritueux, Armagnac, Cognac,boutique wines, restaurant, horeca, caviste, retailer, grossiste, bar à vin, importateur, ditributeur, ditributor, importer, Aoc, Aop, appellation, selection, wine merchants, independent vineyards, premium-quality, direct from the vineyard, French wine regions, grape varieties, Burgundy, Loire Valley,Rhone Valley, organic vineyard, leading supplier, weingut, winzer, weine, weinbau, weinherstellung, aufzucht, auszeichnungen, philosophie, millésime, vintage, 2009, 2005, 2010, Wine Tasting, Wine Dinners, Wine Events, French Winery, french paradox, Französisch Weine, Weine aus Frankreich, Weißwein, Rotwein, los vinos franceses, vinos franceses, el vino blanco, vino tinto, viñador, viticultor, bodega, fournisseur vins, supplier wines, gastronomie, gastronomy, oenotourisme, sauvignon, merlot, chardonnay, cabernet, malbec, syrah, grenache, cinsault, buy french wines, vins de France, Grands Crus Classés, vins d'exception, raisins, vendanges, grand choix de vins,small producers, hand-craft producers, family estate, family produceraccord mets et vins, achat vin, acheter vin, acheter champagne, achat champagne, buy champagne, terroir's wine, unusual wines that express the terroir the wines come from, talent and hard work of the winemakers, hotels, restaurants, independent retailers, on trade chains, high quality wines, well positioned to meet the demands of the most discerning buyer, burgundy, wine reviews, Franse wijnen, wijnen van Frankrijk, Vinos de Francia, vino francés, французские вина, Вина Франции, Vine fra Frankrig, franske vine.vins de propriétés, vins de proprietaires. group of french winemakers. group of french wine producers. French winegrowers association.French winegrowers club.Premium wines. Premieum fine french wines. Grands vins de Bourgogne. Grands vins de Bordeaux. Grands vins du Rhône. Grands vins de Loire.Top french wines, Exciting fin french, french wine club, french producers wine club, french winemakers club, Independent winemakers group, Groupe vigneron, groupe viticulteur, Gie vigneron, gie viticulteur, Wine spectator, wine entusiast, burghound, independent winegrowers group, independent french winegrowers consortium, groupe de vignerons, groupe de viticulteurs, groupe de producteurs, groupement de vignerons de bourgogne, groupement de vignerons de champagne, groupement de vignerons de loire, groupement de vignerons du sud ouest, groupement de vignerons du Rhone, groupement de vignerons de provence, groupement de vignerons du languedoc roussillon, groupement de vignerons d'alsace, association de vignerons de bourgogne, association de vignerons de champagne, association de vignerons de loire, association de vignerons du sud ouest, association de vignerons du Rhone, association de vignerons de provence, association de vignerons du languedoc roussillon, association de vignerons d'alsace, French Family vineyards, group of French Family producers, leaders in their respective wine regions.