15 février 2018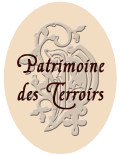 Patrimoine des Terroirs
Group of craft 30 winegrowers since 2006, groupe de 30 vignerons depuis 2006

7 rue Valentine Besson - 25310 HERIMONCOURT
Warehouse's adress- plateforme logistique : Chalon Sur Saône (BOURGOGNE)
TEL : +33.3 81 91 84 30
EMAIL : patrimoinedesterroirs@laposte.net
BLOG : www.patrimoinevin.canalblog.com
Nous nous sommes regroupés dans l'idée de mutualiser, pour nos clients professionnels la partie commerciale et logistique. Vins de vignerons artisans. / We came together for our professionnal customers with the idea of mutualing the commercial and logistical part. Boutique wines from artisan winegrowers

DERNIERES ACTUALITES sur FACEBOOK / LAST NEWS ON FACEBOOK :


PROWEIN - DUSSELDORF
18-20 MARCH 2018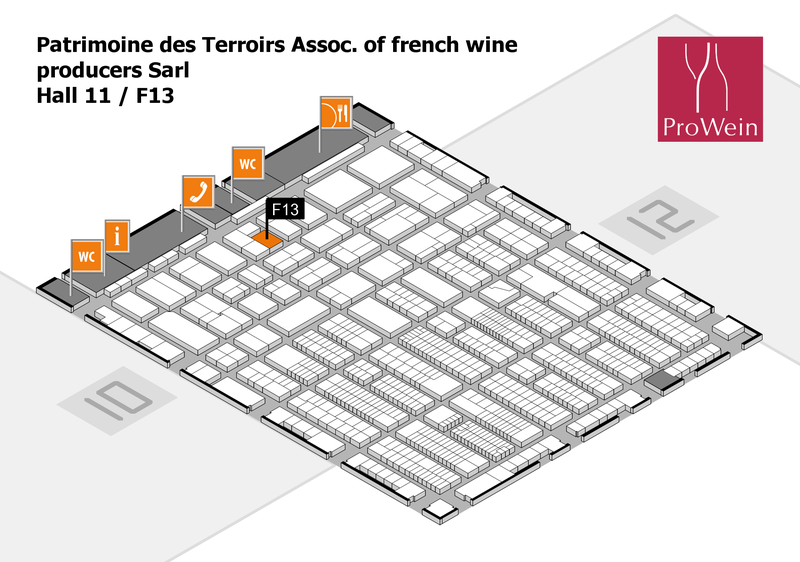 WHY visit us ?
1/ around 70 different appellations from france
2/ only independat and family winemakers, not intermediary or middle man or negociants
3/ possibility to pick up the wines from each winery or in mixed pallet(s) ( EXEMPLE : 5 cases of cotes du rhones, with 10 cases of burgundy, 20 cases of sancerre, 6 cases of bordeaux, 6 cases of champagne... in the same pallet with a single custom paper)
4/ possibility to deliver your order directly at your warehouse or office
5/ awarded wineries, organic culture or reasonable culture
6/ an exclusive distribution in your geaographical area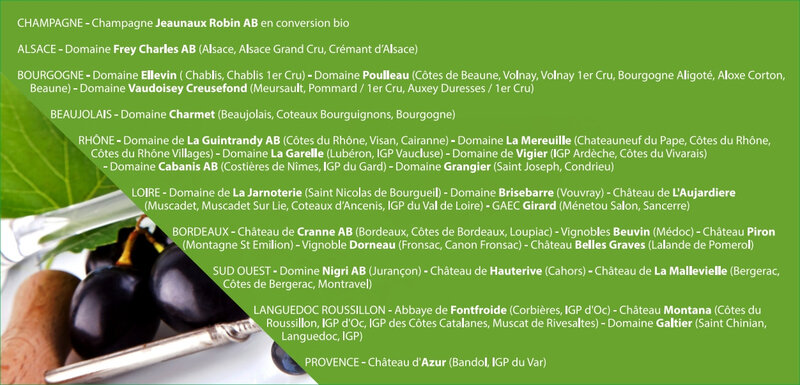 Vin,vigneron, viticulteur, Alsace, Bourgogne, Bordeaux, Loire, Rhône, Champagne, Jura, Sud Ouest, Provence, panachage, livraison unique, plateforme, groupage, groupe de vignerons, groupement de vignerons, groupement de viticulteurs, groupe de viticulteurs, GIE, commandes panachées, commandes mixées, Grenache, Pinot Noir, Chardonnay, Sauvignon, Merlot, Chateauneuf du Pape, Côtes de Provence, Saint Emilion, Pomerol, Muscadet, Sancerre, Menetou Salon, Vin Jaune, Vin de Paille, Macvin, Côtes du Jura, Fronsac, Clisson, Anjou, Vouvray Bourgueil, Jurancon, Madiran, Côtes du Rhône, Chablis, Pouilly Fuissé, Saint Véran, Santenay, Gevrey Chambertin, Ladoix, Volnay, Aloxe Corton, Côte de Beaune, Côte de Nuits, Viré Clessé, Mâcon, Crémant, Saint Joseph, Condrieu,Beaujolais, Beaujolais Nouveau, Coteaux du Languedoc, Vin de Pays d'oc, Côtes du Roussillon, Muscat de Rivesaltes, Maury, Pic St Loup, Corbières, Maranges, Touraine, Pommard, Meursault, Rouge,Rosé, Blanc, vin de terroir, terroir, bio, biologique, biodynamie, agriculture, raisonnée, Guide Hachette, revue des vins de France, Wine Spectator, Wine Advocate, Decanter, Wine Enthusiast, Concours de Macon, Concours agricole de Paris, Tanzer, Jancis Robinson, Languedoc Roussillon, Calvados, Cidre, Tastevinage, Burgondia, Guide Gilbert et Gaillard, Dussert Gerber, Bettane et Desseauve, Féminalise, Revue des vins de France, fine french wine, hand-craft, producer, winegrower, winemaker, France, mixed pallet, warehouse, plateform, rare & fine wine, spirit, spiritueux, Armagnac, Cognac,boutique wines, restaurant, horeca, caviste, retailer, grossiste, bar à vin, importateur, ditributeur, ditributor, importer, Aoc, Aop, appellation, selection, wine merchants, independent vineyards, premium-quality, direct from the vineyard, French wine regions, grape varieties, Burgundy, Loire Valley,Rhone Valley, organic vineyard, leading supplier, weingut, winzer, weine, weinbau, weinherstellung, aufzucht, auszeichnungen, philosophie, millésime, vintage, 2009, 2005, 2010, Wine Tasting, Wine Dinners, Wine Events, French Winery, french paradox, Französisch Weine, Weine aus Frankreich, Weißwein, Rotwein, los vinos franceses, vinos franceses, el vino blanco, vino tinto, viñador, viticultor, bodega, fournisseur vins, supplier wines, gastronomie, gastronomy, oenotourisme, sauvignon, merlot, chardonnay, cabernet, malbec, syrah, grenache, cinsault, buy french wines, vins de France, Grands Crus Classés, vins d'exception, raisins, vendanges, grand choix de vins,small producers, hand-craft producers, family estate, family produceraccord mets et vins, achat vin, acheter vin, acheter champagne, achat champagne, buy champagne, terroir's wine, unusual wines that express the terroir the wines come from, talent and hard work of the winemakers, hotels, restaurants, independent retailers, on trade chains, high quality wines, well positioned to meet the demands of the most discerning buyer, burgundy, wine reviews, Franse wijnen, wijnen van Frankrijk, Vinos de Francia, vino francés, французские вина, Вина Франции, Vine fra Frankrig, franske vine.vins de propriétés, vins de proprietaires. group of french winemakers. group of french wine producers. French winegrowers association.French winegrowers club.Premium wines. Premieum fine french wines. Grands vins de Bourgogne. Grands vins de Bordeaux. Grands vins du Rhône. Grands vins de Loire.Top french wines, Exciting fin french, french wine club, french producers wine club, french winemakers club, Independent winemakers group, Groupe vigneron, groupe viticulteur, Gie vigneron, gie viticulteur, Wine spectator, wine entusiast, burghound, independent winegrowers group, independent french winegrowers consortium, groupe de vignerons, groupe de viticulteurs, groupe de producteurs, groupement de vignerons de bourgogne, groupement de vignerons de champagne, groupement de vignerons de loire, groupement de vignerons du sud ouest, groupement de vignerons du Rhone, groupement de vignerons de provence, groupement de vignerons du languedoc roussillon, groupement de vignerons d'alsace, association de vignerons de bourgogne, association de vignerons de champagne, association de vignerons de loire, association de vignerons du sud ouest, association de vignerons du Rhone, association de vignerons de provence, association de vignerons du languedoc roussillon, association de vignerons d'alsace, French Family vineyards, group of French Family producers, leaders in their respective wine regions, boutique wines, artisan winegrowers

28 novembre 2010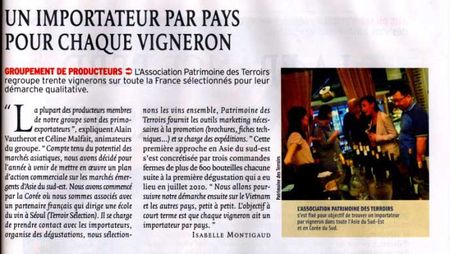 Cliquez sur l'image pour la voir en grand et bien lire l'article.
17 novembre 2010
SOURCE Leparisien.fr avec l'AFP


Au même titre que le Mont-Saint-Michel ou le château de Versailles, le «repas gastronomique des Français» appartient désormais au patrimoine de l'Humanité. Le comité intergouvernemental de l'Unesco réuni à Nairobi (Kenya) a statué favorablement mardi sur la demande en ce sens déposée par la France.
Le repas gastronomique à la française inclut les mets ainsi que les rituels et la présentation qui les entourent. Dans sa décision, le comité note que cette gastronomie relève d'une «pratique sociale coutumière destinée à célébrer les moments les plus importants de la vie des individus et des groupes».
«Les Français aiment se retrouver, bien boire et bien manger, et célébrer un bon moment de cette façon. C'est une partie de nos traditions et une tradition bien vivante», avait plaidé en séance l'ambassadrice de France auprès de l'Unesco, Catherine Colonna. Elle s'est par la suite félicitée de cette décision qui «contribue à la diversité culturelle».
Article détaillé ici : http://www.leparisien.fr/societe/l-unesco-inscrit-la-gastronomie-francais-au-patrimoine-de-l-humanite-16-11-2010-1152816.php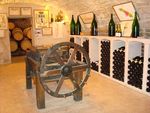 C'est une reconnaissance pour tous les artisans, vignerons, restaurateurs, grands chefs ou simple épicurien que la France est un pays de chaleur humaine, d'authenticité, de savoir-faire, de tradition et de convivialité.

Patrimoine des Terroirs et chacun d'entre nous est assez fier que ses valeurs, son éthique et nos patrimoines que nous défendons depuis bientôt 5 ans, soient ainsi mis en lumière. Car cette annonce, elle est aussi pour tout un pays et toute une population et surtout, pour TOUT UN PATRIMOINE.
Alain et Céline (Animateurs) et les vignerons

03 mars 2006
Vous partagez nos idées ? Vous vous posez des questions à notre sujet ? Ou encore vous souhaitez nous rejoindre ou déguster nos vins ? You share our ideas, values? You have some questions abouts us ? Or you would like to taste our wines ?
Rien de plus simple, pour cela, vous disposez de nos coordonnées complètes ci-dessous :Please contact us below, you have all our coordinates ?

ou par courrier / or by post

Patrimoine des Terroirs
Association éthique de vignerons / Group of french independent winegrowers
7 rue Valentine Besson - 25310 HERIMONCOURT- France